GRANDI is a Vancouver-based womenswear design atelier – an expression for the bold, sophisticated woman. She is creative, inquisitive, and uses her savoir vivre and stylish wardrobe to ask provocative questions.
Start in 2014 by designer dressmaker Grandy as an exclusive, bespoke service, the atelier has garnered international media attention, including coverage by Vogue, Glamour, WWD, Forbes, Dazed Magazine, as well as on the red carpets at the Academy Awards and Cannes Film Festival.
GRANDI is known for its striking artistic details, purposeful design attitude, and timeless silhouettes.
From this design oasis in our fast-fashion world, every design is founded in its own concept, steeped in its own story. These artful collections have shown on the runways of Amazon Fashion Week TOKYO and Vancouver Fashion Week.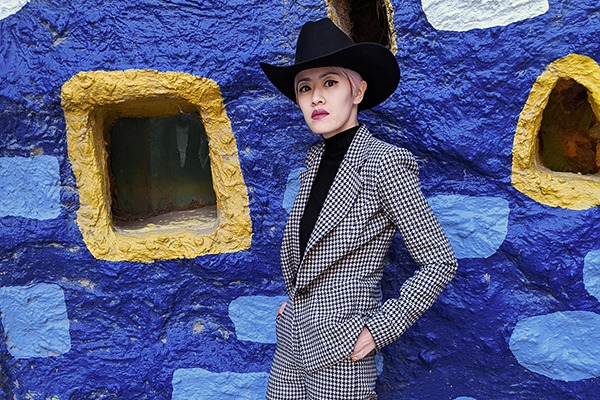 A celebrated humanist once put the ratio of passion-to-reason bestowed in man at 24-to-1. After graduating from business school, I found this to be approximately the ratio of time I spent designing and making art, versus time spent searching for what mother referred to as "gainful employment".
Being a rebel at heart, after 4 years in the financial sector, I left the rigid 8-hour work day to figure out what I wanted to do. My left and right brains couldn't come to an agreement on whether we enjoyed more creative or structured pursuits.
Growing up as a slight person, I had taught myself to make clothes from always being denied my favourite pieces due to size. It became apparent to me that fashion design and entrepreneurship is an ideal marriage of the artistic and the analytical.
With no official fashion schooling and very little insight into the industry, I had no idea what laid ahead. I just knew that I had art to make and stories to tell, and that my brand of dogged hard work and perseverance would lead somewhere.
In 2013, I started making one dress a week and blogged about my journey. From there, my style and philosophy as a designer emerged, with scrupulous emphasis on classic elegance and bold, artistic expression.
Atelier GRANDI officially launched at Vancouver Fashion Week in March of 2014, then internationally at Amazon Fashion Week in Tokyo in 2018.

Amazon Fashion Week Tokyo (2018)
Vancouver Fashion Week (2018)
Vancouver Fashion Week (2018)
Vancouver Fashion Week (2016)
Vancouver Fashion Week (2016)

Vancouver Fashion Week (2018)